PPM Sekolah Cerdas Berbasis Teknologi Di Sd Islam Terpadu Wahdah Islamiyah 01 Makassar
Abstract
Tujuan diadakannya Program Pengabdian Masyarakat ini adalah dalam rangka meningkatkan kinerja dari para guru yang memberikan matapelajaran IT khususnya Komputer dan peningkatan minat  siswa dalam menerima pelajaran sehingga slogan Sekolah pintar berbasis Teknologi bisa diterapkan dan juga tidak terlepas dari  Tri dharma perguruan tinggi terdiri dari (1) Pengajaran (2) Penelitian, dan (3) Pengabdian Masyarakat, SD IT Wahdah islamiyah merupakan salah satu lembaga pendidikan yang berlokasi di jalan Raya Bukit Baruga No.12B kecamatan Manggala Makassar Sulawesi Selatan, yang menjadi peserta dalam program ini adalah siswa kelas VA2 yang terdiri atas 27 orang dan bahan ajar kami adalah berpedoman pada buku Paket Tematik berjudul Fun Learning Information & Communication Technolgy 5. Adapun metode pengajaran yang diberikan yaitu ceramah dan praktik langsung baik dikelas maupun dilaboratorium. Namun kendala yang kami hadapi adalah keterbatas labortorium yang harus dipakai secara bergantian dengan kelas yang lain Hasil akhir yang dicapai yaitu pemberian latihan sebagai bentuk evaluasi dan peningkatan kualitas anak didik dengan pemberian masukan pada mata pelajaran TIK.
Keywords
Microsoft Office; Microsoft excel; Sekolah Pintar
References
M. Y. Herring, "Are Libraries Obsolete?: An Argument for relevance in the Digital Age," McFarland & Copany, Inc: Carolina, 2015.
H. Ates, "Information Technology and Learning Environment in Primary Schools," Procedia-Social and Behavioral Sciences, Vol. 93, 21 Oktober 2013, pp. 695-698.
I. Pranoto, S. Artini, "Fun Learning Information & Communication Technology 5 For Grade V Elementary School," Facil, a Brand of Grafindo Media Pratama Member of IKAPI: Second Edition, 2016.
M. Suryawinata, N. L Azizah, "Program PPM SD Muhammadiyah I Plus Taman Siswa Kota Mojokerto," PPM Institusi, 2017
DOI:
http://dx.doi.org/10.30700/sm.v1i1.577
Article Metrics
Abstract view : 80 times
PDF - 23 times
Refbacks
There are currently no refbacks.
This work is licensed under a
Creative Commons Attribution-NonCommercial 4.0 International License
.
Prosiding SINDIMAS Sudah terindex di :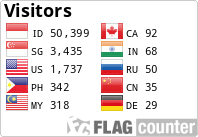 SINDIMAS Seminar Nasional Hasil Inovasi Pengabdian Masyarakat

ISBN: 978-623-90975-0-9

STMIK Pontianak
Jl. Merdeka No. 372 Pontianak, Kalimantan Barat
Phone: +62 561 735555
Fax: +62 561 737777

This work is licensed under a Creative Commons Attribution 4.0 International License.
Sponsor Utama:
Partners & Co-Organizers: